The New New Gothenburg Spirit (Den nya nya Göteborgsandan) is a performance work that is based on Göteborg Konsthalls own administrative everyday routines, and highlights the systems and phenomena that pervade a completely ordinary working day in the service of the municipal residents. Small-scale examples from a silent tug-of-war are presented: a sometimes painful wrestling match between judgment and structure that takes place behind the facades of all municipal institutions around in the city districts. These acrobatic maneuvers are intertwined with the city's tunnel vision on economic growth and the contemporary manic acceleration rate that perforates us citizens on all levels.
In the performance, alternative methods are sought out, new ceremonial tactics expand from the basements of administration, strange measures are developed and leads up to a gloomy ritual – a joint exorcism of both new and old ghosts of thought.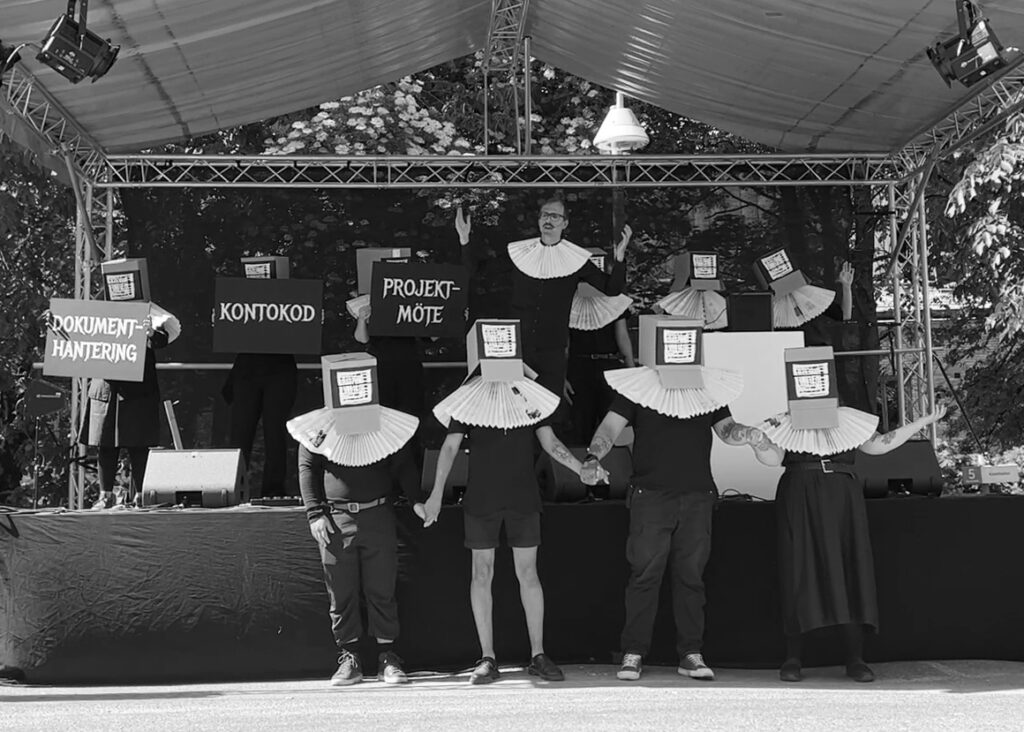 Ten employees from the City of Gothenburg participated in the ritual: Matias, Henrik, Mikael, Kajsa, Petra, Jenny, Katarina, Fredrik, Niina and Linda. They where dressed in ceremonial outfits made out of discarded paper and cardboard: leftovers from municipal operations. The participants uphold different positions and are working for various departments of the municipality.
The performance took place to the tunes of Arvsmassan.
---
More about the event at the website of Göteborg Konsthall
---